HERD Unveils Next-Generation of Texas Truck Guards
(Press Release: Winnipeg, Manitoba)— HERD, one of the transportation industry's most trusted names in front-end protection and trucking accessories, recently announced innovative new versions of its popular legacy products, the Texas and Big Tex Truck Guards. Designed specifically for operators who work in demanding conditions, the next generation of Texas guards are lighter and stronger than their predecessors, increasing protection without weighing you down. As the transportation industry continues to push the boundaries of innovation, HERD's reimagined legacy product line demonstrates the company's dedication to setting the industry standard for front-end protection.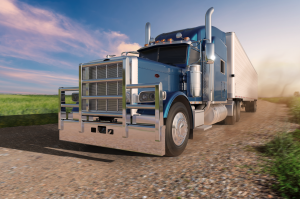 Whereas the previous iterations of the Texas and Big Tex were made from channel extrusions, the all-new Texas guards are built using formed channels instead. While maintaining a very similar look, the change allows HERD to have greater design flexibility and offer Truck Guards that weigh less and are more durable than those made with channel extrusions. The redesigned guards not only retain their familiar appearance but also deliver enhanced performance, making them ideal for drivers who want resilient front-end protection without additional weight.
HERD's Truck Guards are not the only product getting an update, the manufacturer also announced an overhaul on its popular Slam Latch system. The new Slam Latch continues to provide users with nearly instant access to the truck's engine with an incredibly smooth and tactile latching feel but has now been reworked and rigorously tested to eliminate nearly all maintenance and adjustments. The new latching system is so robust that HERD has decided to make it standard for the next generation of its legacy products, setting a new benchmark for accessibility and ease of use.
The next generation of Truck Guards also features HERD's most radar-compatible bracket ever, establishing a new benchmark in the industry. Meticulously designed to meet not only the needs of current equipment but also the evolving demands of future radar systems. This means operators can drive with confidence that their instruments will work when they need it the most. To enhance this peace of mind, each Texas and Big Tex Truck Guard is backed by HERD's guaranteed 3-year warranty.
"Our Texas and Big Texas Truck Guards have long been a staple in our legacy product line," said Marc Daudet, CEO of HERD. "As we enter into HERD's next generation of manufacturing, we're proud to offer Truck Guards that are both lighter, stronger, and feature cutting-edge features like the Slam Latch that continue to set a higher bar for quality and performance."
For more information about HERD's Truck Guards and to place an order, visit HERD.com
---
Since its founding in 2003, HERD has emerged as one of North America's premium manufacturers of front-end protection. The Winnipeg-based company has built a reputation for producing high-quality and innovative products that enable drivers and fleet managers to maximize their trucks' performance. While gaining recognition for its Truck Guards and Grille Guards, HERD also offers a variety of high-quality trucking accessories and recently announced an all-new Electric Power Division, further expanding its innovative product offerings.