Everything You Need to Know About HERD's Grille Guards
Get all your questions answered BEFORE You Buy…
You spend a lot of time on the road and have probably seen a variety of mishaps that could have been avoided if other drivers had a little extra protection on their vehicles. Your truck is your livelihood, so that has you thinking, "What else can I do to minimize my risks?"
With a proven track record for performance, HERD's Grille Guards are a great place to start.  
If you have questions about Grille Guards, HERD has the answers you need before you invest your hard-earned money. You need a Grille Guard that protects your front end, mitigates damage in the case of a collision, and allows you easy access to your engine. HERD has the Grille Guard technology to do just that.
Plus, HERD also knows there are a lot of different trucks on the road, so they cover a broad range of truck models from Freightliner, Kenworth, Mack, International, Western Star, Volvo, and Peterbilt to ensure that if you drive it, there's a Grille Guard for it.
What Are Grille Guards Made From, and Are They Durable?
HERD's stainless steel Grille Guards are crafted from the highest quality 304 steel for incredible strength and durability. These Grille Guards aren't just functional, they're stylish, too. The mirror-like polish adds swagger to any rig because HERD understands that your truck needs not only to perform but also to look its best.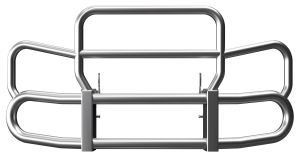 If you're after a more rugged look, HERD has you covered there, too. Each Grille Guard is also available in HERD's HARD Coat™. The advanced polyurea coating protects from wear and tear, including corrosion, scratches, dents, and dings. HERD's engineers created this amazing layer of protection because they know you need equipment that lasts. You can count on a HARD Coat™ Grille Guard to be as dependable as you are for years to come.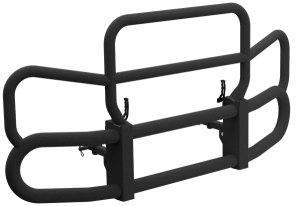 Are HERD Grille Guards Easy to Install?
Time is money, and nothing is more frustrating than losing time to a truck maintenance project gone awry. That's why HERD has made each Grille Guard easy to install with just one or two people (two is recommended, of course; Grille Guards are a bit bulky, weighing between 87 and 210 pounds on average.) But if you've got a buddy who can spare a few minutes, you can get your new Grille Guard in place and ready to go with minimal effort.
HERD includes all the hardware you need, including mounting brackets, to get your Grille Guard ready to go in no time. The high-quality mounting points, plus HERD's patented Grip Latch system, make it easier than ever to lower your guard, minimizing vibrations and preventing accidental loosening or opening. Plus, none of the hardware interferes with your hood access.
How Long Will I Have to Wait for a HERD Grille Guard?
If you're tired of ordering hardware, equipment, or accessories for your truck and then waiting forever to receive them, you're not alone. HERD understands that the business of trucking is the business of moving, and you can't sit around while your new equipment arrives at a crawl. 
HERD increased production to reduce lead time so that nearly every Grille Guard is ready to ship within five business days. Plus, HERD has competitive upfront pricing and an industry-leading 3-year warranty on Grille Guards and a 5-year warranty on Grip Latches, so buying is always hassle-free. Freight shipping rates on bulk same-SKU orders also make it easy for fleet managers to outfit their rigs.
Are You Ready to Join the HERD?
When you're ready to protect your livelihood with a Grille Guard, HERD's truck accessory specialists are are standing by to answer all your questions. You can also browse HERD's selection of Grille Guards to find the one that's just right for your rig. With short lead times, industry-leading warranties, durable construction, easy installation, and a choice between sleek and rugged to match your style, HERD truly has thought of everything, so you don't have to.