How to Choose the Right Grille Guard for Your Truck
Unlocking the secrets to maximizing style and enhancing safety…
In the transportation industry, profitability hinges on the ability to stay on the road and minimize downtime. Because even seemingly minor collisions can have serious consequences, choosing the right equipment can be the difference between keeping operations running smoothly and being stuck at the mechanic.
There are endless reasons to get a Grille Guard, but the process of deciding on which one can be daunting. Ensuring the guard will fit your specific make and model, determining how much coverage you want, and settling on the right finish, can make it feel like you're suffering from choice overload. To help simplify the process, here is a quick breakdown of everything HERD has to offer.
Size Matters
The first step in choosing a Grille Guard is determining which size best suits your specific needs. This means deciding on the type of coverage you want for your front end, what type of wildlife you might come into contact with on your regular routes, and how imposing you want your rig to look. 
HERD Grille Guards offer 3 levels of protection, each increasing in size and coverage.
Grille Guard 100

: The Grille Guard 100 provides enhanced reinforcement to your factory bumper. With an average weight of 87 lbs and rounded horizontal tubes that are 3 ½" thick, the GG-100 provides an extra layer of defense without weighing you down.

Grille Guard 200

: The Grille Guard 200 series adds 2 ¾" rounded tubes on top of the 3 ½" lower tubes, raising the coverage to include the lower portion of the grille. It comes equipped with HERD's patented Grip Latch, which helps provide easy access to your truck's engine, and is backed by an industry-leading 5-year warranty. 

Grille Guard 300:

The Grille Guard 300 series is the ultimate solution for front-end protection. Like the GG-100 and GG-200, it features tapered box uprights for a sleek look that reduces weight but extends coverage to include the full grille and headlights. And like the 200, it comes standard with HERD's Grip Latch and is compatible with most Collision Avoidance Systems.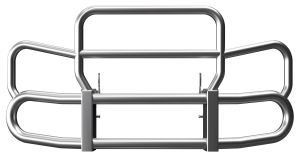 HERD also offers a variety of optional upgrades, including BOLT™, license brackets, and tow straps available for each model. And while some manufacturers take a one-size-fits-all approach to their guards, leaving awkward fits and gaps in coverage, HERD designs each Grille Guard to fit your specific make and model. This includes guards tailored for models from Peterbilt, Kenworth, Freightliner, International, Mack, Volvo, and Western Star. You can find the complete list here.
The Finishing Touch
After choosing between the GG-100, GG-200, and GG-300, the only thing left to decide is the finish. HERD offers two options: 
Polished Stainless Steel:

When people hear the word "HERD," they usually think of its famous mirror-like finish. Each stainless Grille Guard is made with the strongest steel in the industry and meticulously polished to perfection, giving a stylish and refined look to any truck.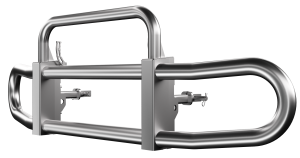 Polyurea Hard Coat™:

If you're looking for a more rugged look, HERD's

advanced polyurea Hard Coat

is for you. The standout coating is as tough as it looks, resisting chemicals, preventing corrosion, and will not crack or peel. Plus, the durable coating is easy to care for and hassle-free.
Easy Shopping, Express Shipping
HERD has entered a new era of accessibility, making it easier than ever for you to get the Grille Guard you want, precisely when you want it, hassle-free. Simply click this link, finalize the options you want, and make a confident decision. And if you have any additional questions, be sure and check out the FAQ section. All Grille Guards are currently in-stock and ship within 5 days, so you can set your truck up in style in no time. 
The right equipment can be a major difference-maker on the road, and protecting your truck's most vital systems isn't something you should leave to chance. HERD provides the perfect combination of protection and style, with a reputation for quality earned from over twenty years in the industry. With all-new competitive pricing, there's no reason to settle for less.